Are you a golfer whose love for the game knows no bounds or sand trap? Preparing thoroughly for the game of golf can give you an edge over your opponent. From the best golf head covers to the best golf simulators, every golf lover needs the best golf accessories that will help them swing in style through seasons.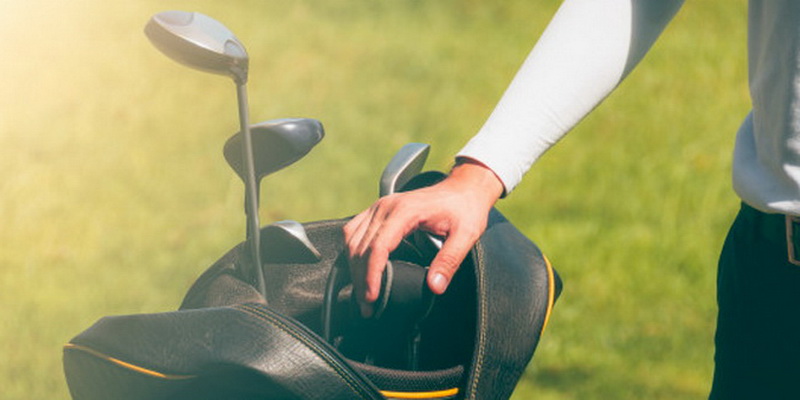 Why do you need the best golf accessories?
A high-end golf accessory will ultimately make your game easier and truly enhance your playing experience. No matter how small or big, having great golf accessories can add a nice touch and elevate your game enjoyment. Because there is a lot more than clubs, balls, and tees in golf, you need to prepare appropriately for every scenario.
No matter your skill level, some gadgets are must-haves while others are subtle, and you may not use them every round. However, you need to stock them so that they are ready to be called when a need arises. In this article, you will find the best golf accessories, which have the power to turn you from a weekend warrior into a first-class golfer. This article will be useful also for beginners. Keep reading for the best.
The eight of the best golf accessories
1. Best golf headcovers
Whether you're a weekend warrior or ace, it is imperative to have headcovers for your driver and fairway woods. Since drivers and fairway woods are susceptible to damage and chipping, a great headcover will protect its unique and stylish finish. You may consider leather TaylorMade Golf headcovers or these vintage classic leatherette Majek Retro Golf headcovers when buying. So, with these high-end headcovers, you are sure to protect your fairway wood's stylish paint job optimally. 
Headcovers are also useful in muffling your clubs when carrying them across the shoulder or driving the cart. Great golf headcovers will fit snugly around the clubs to cover the head, plus about 6 inches down the shaft. If you like uniformity, you can get a headcover featuring the club's name and logo like the NFL Arizona headcovers. To stand out, look for high-quality PU leather headcovers depicting unique characters like cartoons and animals. 
2. Best golf umbrellas
No matter where you play golf, sometimes the weather won't cooperate. If you don't want the rain to ruin your round, all you need is to have a high-quality golf umbrella that is up to the challenge.
Golf umbrellas like these G4Free 62' Automatic Open and ACElken Windproof Large 62-inch golf umbrellas are a perfect companion on the golf course. These ultimate golf umbrellas have industrial-strength fiberglass structures and heavy-duty vented canopies designed to withstand inclement weather. So, they will never break down after the very first gust.
Ideally, a good golf umbrella should be enough to give you and your bag shade or dry during less-than-ideal weather. It should also feature double canopies to ultimately protect you from rain or wind and sun during scorching weather.
3. Best golf simulators
Enthusiastic golfers want to continue enjoying the game of golf without getting distracted by weather or restricted by time. For this reason, you need to have a reliable golf simulator to play your favourite courses whenever you feel like doing so.
With Phigolf Mobile and Home Smart Golf Game Simulator, you can count on being able to swing to dial in swing and take your game to the next level. As indoor golf booms in popularity, it is more feasible to have your own golf simulator. This accessory is designed to simulate exact conditions of playing on the green. 
4. Best golf gloves
Considering that your hands are the only part that touches the golf club, it is imperative to have at least one pair of high-quality gloves. So, the best golf gloves will maintain your grip with the lead hand without necessarily adding extra grip pressure.
FootJoy Men's WeatherSof Golf Gloves are made with leather for unmatched durability while offering an enhanced soft feel and stable grip. They are designed to provide incredible breathability, comfort, ultimate flexibility and will comfortably adjust for a secure and reliable fit. 
5. Best golf tees
Golf tees are one of the essential accessories. Whether you're a 28-handicapper, scratch golfer, or tiger woods, you use golf tees. With many styles and various lengths, you need the best.
Pride Professional Tee System, 3 ¼-inch ProLength Plus Tees are long enough to tee up your golf ball to the desired height. With their slender design, they are ready to move freely through the turf if you want to tee the ball lower. They are suitable for all your courses. 
So, if you want something fun yet functional, you might consider Golf Perky Tees. Designed with extra detail for an ultimate eye-candy experience, these funny golf girls are 3" for performance.
6. Best golf towels
Every golfer needs a dedicated golf towel. Mile High Life Trifold Golf Towel is a premium quality golf towel that will help you clean your clubs, wedges, irons, and woods. They are made with microfiber, which does a better cleaning job than cotton. 
These microfiber towels can get into the iron grooves. They come in many colours, allowing you to choose your tasty and are machine washable. So, grab one from Amazon that matches your bag, club set, and favourite team.
7. Best golf ball retrievers
With an excellent golf ball retriever, you don't have to worry when your ball ends up in a bush or on the edge of a lake. Callaway Golf Ball Retriever is robust, hard-wearing, and extremely easy to use. It is compact with a long-range telescoping reach extending up to 15 feet. Being a high-quality aluminium alloy, it is lightweight and will not bend when fully extended. 
8. Best golf ball markers
There is a lot of value in owning a tailored golf ball marker. Golf-EZ TRI-LINE Golf Ball Alignment Kit comes complete with a 4-piece marker set and 2-pack golf ball line marking alignment. The markers are fast drying and will help draw perfectly straight lines and arrows to elevate swing and putting alignment.
Conclusion
With a myriad of accessories labelled as golf accessories, it can be overwhelming to pick what is necessary. No matter your skill level, you will undoubtedly need to have the above golf accessories in your golf bag. They will keep you prepared when you're on any golf course.